It's like the food version of a hug! That feeling you had as a kid when you got noodles with butter and cheese – simple, perfect comfort food. In Rome, the elevated version is called Cacio e Pepe. Translated, it simply means "cheese and pepper". Here is where I will sound as annoying as a coed who just spent a semester abroad in Rome, "It just tastes waaaaaaaayyyy better in Rome. I would LITERALLY eat it every day." With the right ingredients and a couple of tricks you can get the right consistency of creamy delicious tangy cheesy sauce.
It starts with a long spaghetti, traditionally tonnarelli (slightly thicker than spaghetti) or bucatini (which is hollow in the middle). Then, get the best quality Pecorino Romano you can find – it's a sheep's milk cheese from Rome. If you have options, the sharper the better. Some people use half Parmegiano Reggiano and half Pecorino, but if you have a good Pecorino there is no need to cut it with Parmesan. Next, the peppercorns. They must be coarsely ground. You can use a mortar and pestle or the bottom of a heavy pan against a cutting board. Definitely use black peppercorns, but I also like to play with a variety of white and pink. You'll need the best quality extra virgin olive oil, plus a great butter – I got an Italian burro that was incredible! However, the most important ingredient is starchy pasta water. That's what pulls the whole sauce together.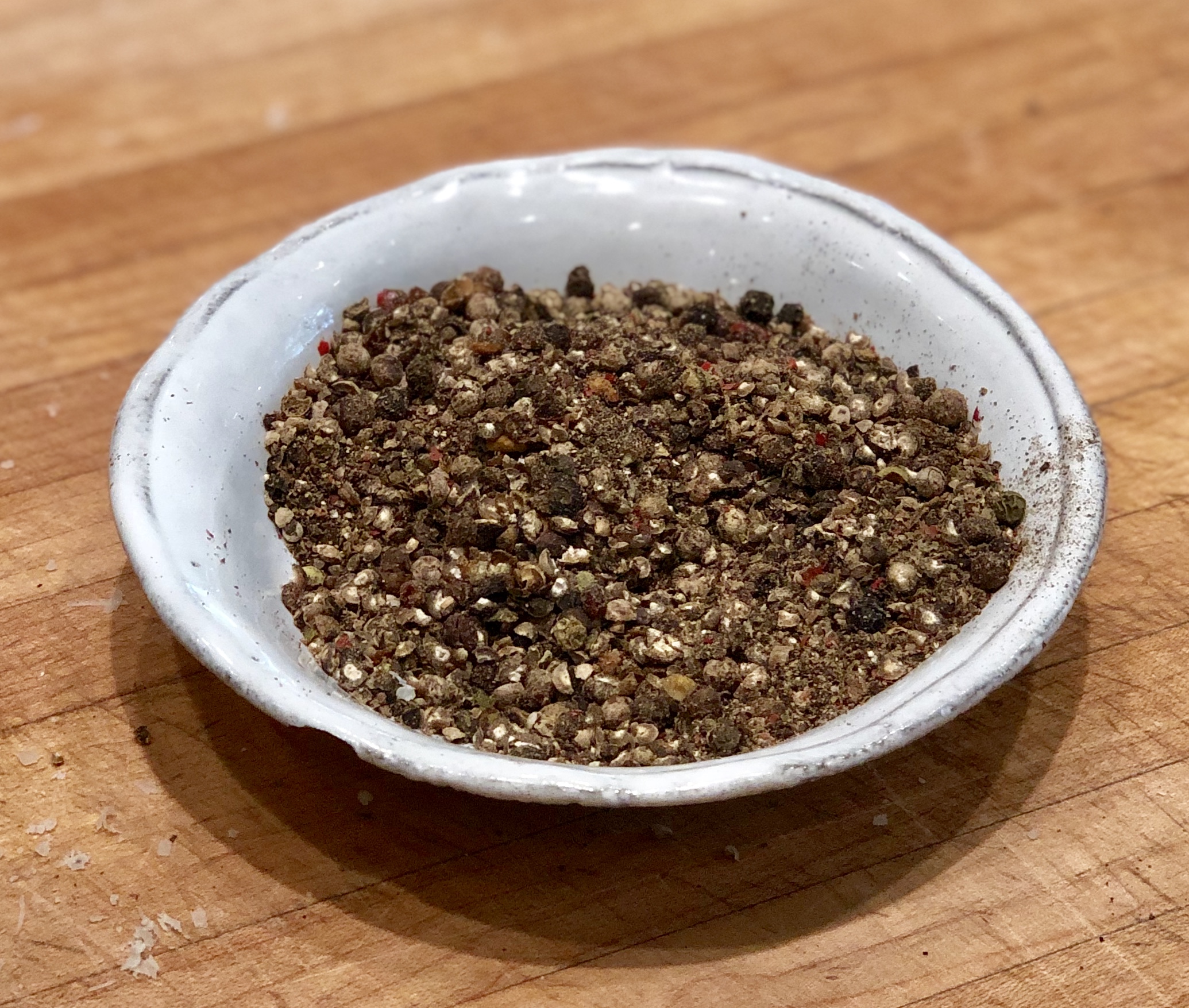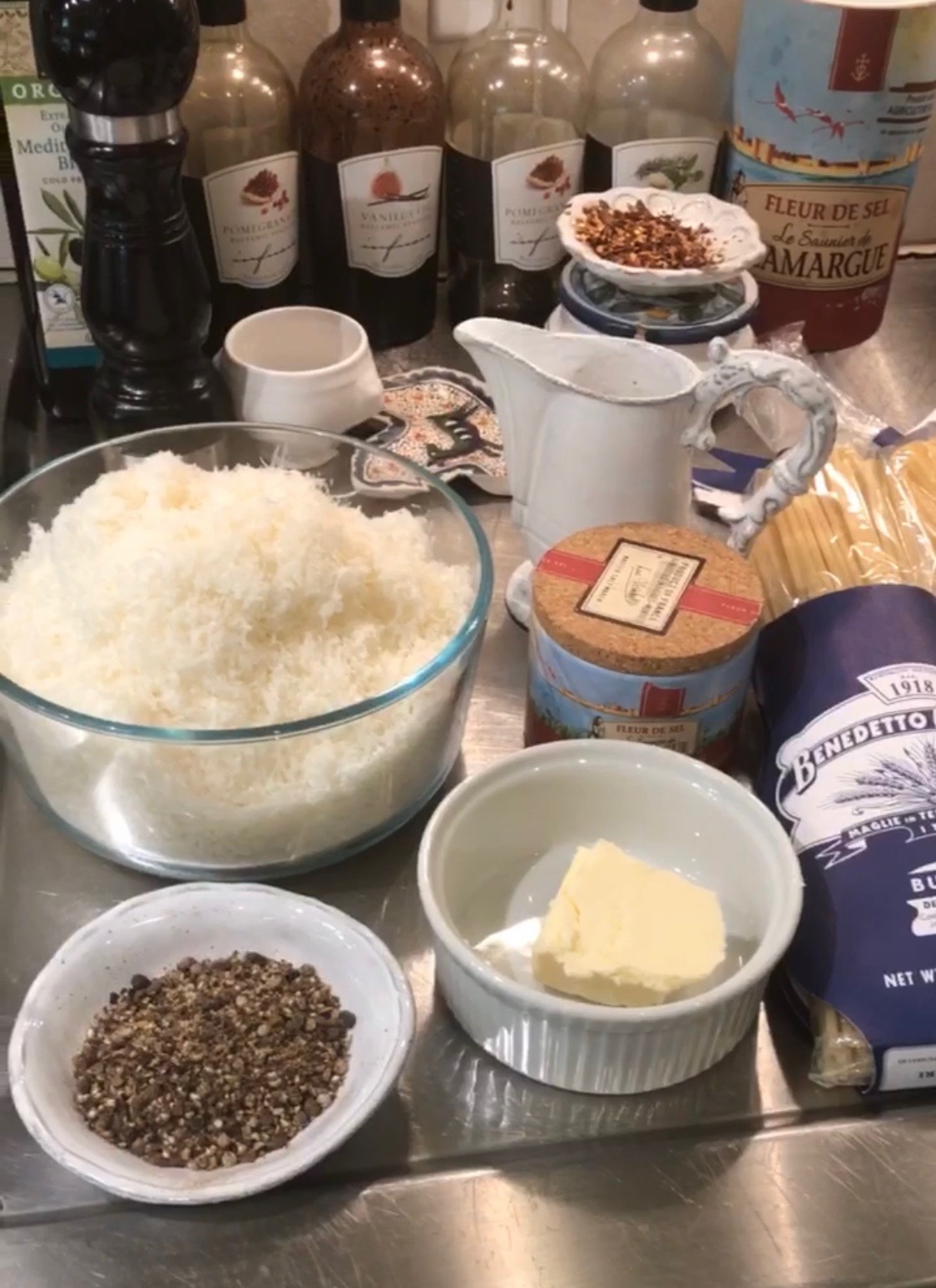 1 pound tonnarelli (long spaghetti) or bucatini (thick hollow spaghetti)
4 cups finely grated Pecorino Romano (use a micro-planer for best results)
4 tablespoons salted butter
¼ cup extra virgin olive oil
2 tablespoons coarsely cracked peppercorns
Sea salt
2-3 cups starchy pasta water
Prepare all the ingredients as set out on the counter (except the starchy pasta water).
Heat a large stock pot of water for the pasta. Add a generous amount of sea salt. When boiling, add the pasta and cook according to package instructions.
While the pasta is boiling, place oil and butter into a large saute pan (big enough to hold the pasta as well). Heat on medium until melted. Add the cracked peppercorns and stir to combine. Place on simmer until next steps.
When the pasta is 3 minutes from being ready, carefully remove about 3 cups of the starchy water and set aside. When pasta is almost al dente (about 1 minute from being done), strain and do not rinse (don't overcook because it will cook a little more in the sauce).
Turn up the heat on the butter/oil to high and add 2 cups of the pasta water to the mixture. Bring to a rigorous boil and let the water boil down for about 1 minute. Add the strained pasta and stir to combine, tossing for another 1-2 minutes. The saucy water will become thickened. (If you tip the pan to one side, you should have roughly a cup of saucy liquid. If too much of the sauce/water evaporates, you may add a little extra pasta water.)
Once the liquid has thickened to a pale yellow color with nice consistency, turn off the heat and add the pile of grated Pecorino Romano. Gently toss - the buttery oil and starchy pasta water will combine with the Pecorino into a creamy beautiful peppery cheese sauce. You might just be transported to Roma! Serve immediately.
To watch the Facebook LIVE when I cooked this for my family, click here:
https://www.facebook.com/suzannesomers/videos/571387660057023/