In Camelia's junior year of college she was eager to travel abroad, and it made complete sense for her to choose Shanghai as her destination since she is a Chinese major. While her friends were making plans with other students to room together in Paris, Barcelona, or Rome, Camelia was on her own headed to China. Of course we were proud of her for making such a bold choice, but would she be safe in China on her own? Would we have access to communication? Cell service? What would happen in the case of a medical emergency or a natural disaster? It's easy to let your head spin with all the ways your child could potentially be injured, abducted, harmed, harassed, or compromised in a foreign country. Add China as the destination and you are bound to feel even less in control.
Bruce and I were thrilled to have the opportunity to take to explore her new city and help her get set up in her dorm at East China Normal University. Before her move-in date, we spent a week at a lovely hotel near the French Concession area called Twelve at Hengshan. It was an easy location to navigate the many attractions of this fabulous high-tech modern city with ancient historic culture. Our favorite feature was their spectacular breakfast, especially the wonton soup. With all the adventurous eating ahead of us for the days in China, we knew we would start each day with this amazing soup with fresh vegetables, broth and dumplings, as well as a spectacular array of breakfast foods to please travelers from any country.
The Bund (along Zhongshan Road) is the European district and walking down the shopping streets, you could be in Paris with the Neoclassical and art deco buildings and familiar designer store fronts.
One of our favorite outings was to the garment district, where our friend Diane recommended a local tailor to make beautiful cashmere coats for a fraction of what you would pay in the states. We also loved M50, the art district at 50 Mogansha Lu, with contemporary and modern art from small local studios. We spent an afternoon walking through and meeting local artists, had an incredible lunch at a noodle restaurant, and meandered through bookstores. Definitely worth a visit, especially for these soft, spicy pork noodles.
On the more tourist route, we explored Yuyuan Gardens with its ancient architecture, koi ponds, and cherry blossoms. Unlike the more metropolitan areas of Shanghai where there are many travelers from around the world, Camelia was more conspicuous as that blonde American in this densely populated area with Chinese natives. She likes to listen to people talk about her in Mandarin, of course they assume she can't understand. Taxi drivers here will not pick up Americans unless you have an address written on a card. At the beginning of the trip, Camelia acted as our translator was able to converse with our driver. She stumbled here and there as she was getting up her confidence, but we always arrived where we were supposed to and she our driver formed a sweet friendship.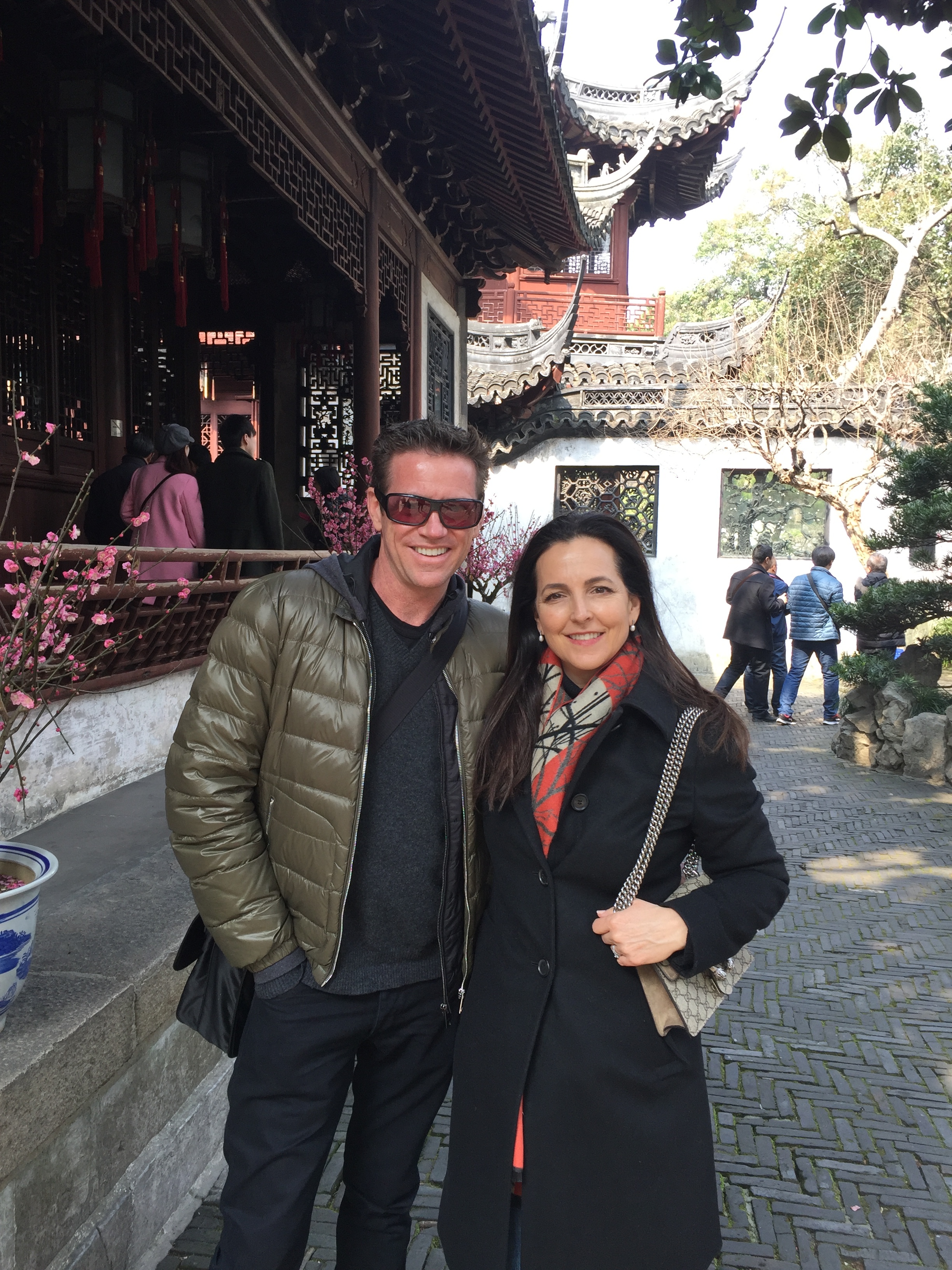 I expected to feel incredible censorship everywhere we went. I didn't. I expected to only meet families with one child. They all had numerous children. I expected to feel like life was restricted for these 1.3 billion people. They seemed happy. The realities are that I missed having international news on TV and found it fascinating that CNN was mostly pre-recorded programming with a few snippits here and there of what we would call regular news. Bruce showed me how to access the internet in a familiar work-around using VPN so it appears my computer is logging in from the states. (His favorite is Express VPN, but make sure you download and install it before arriving in China.) This allows access to all my regular sites and social media that are not available to Chinese citizens. Camelia was settling into these new norms and she's got a lot of street savvy because she's traveled extensively. She opened a We Chat account, which is the most popular social media site in China.
People in China do not have access to guns and there is security everywhere. This dramatically cuts down on crime and makes the streets extremely safe. Camelia was well aware of this bubble and in many ways said it made her feel safer in China than at home. She was beautifully naïve to the freedoms and rights she has always had as an American, but felt that because she was born into a culture with those rights, she could enjoy the safe guards in China – knowing she had her American citizenship with all her privileges.
Our wonderful Chinese friends, Catherine & Kevin Chan, introduced us to a small circle of surrogate parents in Shanghai who promised to watch over Camelia when we left. How incredible to have these kind, compassionate, connected, and caring people nearby so that if Camelia needed something, she had resources. They also opened many doors socially for Camelia who found herself at private clubs, Shanghai Fashion Week, and the birthday party of our new friends, Anya and Richard, who happens to be the 78th direct descendant of Confucious! Diane, whose friends lovingly refer to her as The Martha Stewart of China, gave us incredible recommendations for food and shopping. They also took us to beautiful restaurants and provided resources for whatever Camelia needed while she was there.
Camelia already has several food allergies, but she managed to navigate the strange and wonderful cuisine of Shanghai – with a few exceptions. One night Camelia called me from the Top of Shanghai Tower and told me she had such bad food poisoning, she didn't know if she could get back to her dorm. She became quite friendly with the bathroom attendant in her 90 minutes of horror. When the observation deck was closing at 9:30pm I told her she better get downstairs before she got locked in the tower! She was so weak and didn't think she could walk the 15 minutes it took from the drop off point for cabs at her school to her room. This is where it helps to have local friends who say, "Seriously, call us if you need anything." It was serious, and I didn't know where else to turn! I called Catherine & Kevin, who live part-time in Hong Kong and part-time in Shanghai. They insisted on sending Camelia to their residence at a hotel and had people standing by to bring her soup and Chinese herbs to help her stomach. Suddenly Camelia felt like the luckiest girl in the city to have food poisoning! Some soup and a little TLC was just what she needed.
By the end of Camelia's four months in Shanghai I expected her to be aching to return to the states. No, she was sad to leave! I was on the phone with her and listening to her rattle off (no stutters) directions in Mandarin to her cab driver. She was arriving back at her dorm after a late night out and leaned out the cab to speak to the attendant at the school gate. I asked what she said to him and she laughed, "I told him I just got in from the airport and have heavy bags with me so I needed the cab to drive me all the way to my room. I couldn't bare that walk in heels tonight!" The cab driver laughed and told her she was smartest foreigner he's ever met!
Now that she's about to graduate from USC, there is no doubt she will be spending more time in China and we can't wait to explore more of this fascinating country. Camelia's time in Shanghai was her transition to adulthood. She came back for her senior year with notably more maturity and focus on her career. When our kids are abroad, of course we worry, but the life experiences and independence they gain by not having us there are unsurpassed!