Traveling in Italy makes me realize what is truly means to eat in season. Florentine markets do not fly in fruits and vegetables out of season from different climates. In Los Angeles, we shop at Whole Foods and one might never realize the actual season for berries, apples, tomatoes, squash, etc. They have most of these items year round by partnering with agriculture companies in South America. In this situation, the food is not picked when it's ripe and ready to eat. It's picked early, packed and transported for the long journey to get to market. Sure, those pink tomatoes will eventually ripen to red, but they will never have the flavor of an actual vine ripened tomato that is picked and sold the next day. This local growing and selling of fresh produce is what gives the farmer's markets such appeal. In Italy, buying local fresh produce is the norm. The lower floor of Mercato Centrale hosts dozens of fresh produce that is grown locally, and sold the day it's ready for the season.
The arrival of porcini mushrooms in September and October causes a major celebration in Tuscany. You can feel and see the buzz at Mercato Centrale. Vendors proudly display their prized mushrooms. They are so beautiful, I feel like they are fantasy houses for little gnomes who live under their shade in the garden. As I fill a paper bag, I am expecting the hefty price tag from the outdoor market in Los Angeles. Perhaps $40 for a full bag like this? Whatever, it's worth it - they are porcinis! The gruff Italian vendor looks at me and says, "Nine". 9 euros? Are you kidding! He's sweet on the inside and also gifts me a few sprigs of nepitella, an herb that tastes like a cross between oregano and mint that grows wild in Tuscany and is commonly paired with porcinis. It's my first introduction to this herb, and who am I to argue this classic pairing to a man born and bred in Florence. Of course, I also pick up some fresh thyme because I love it with porcinis.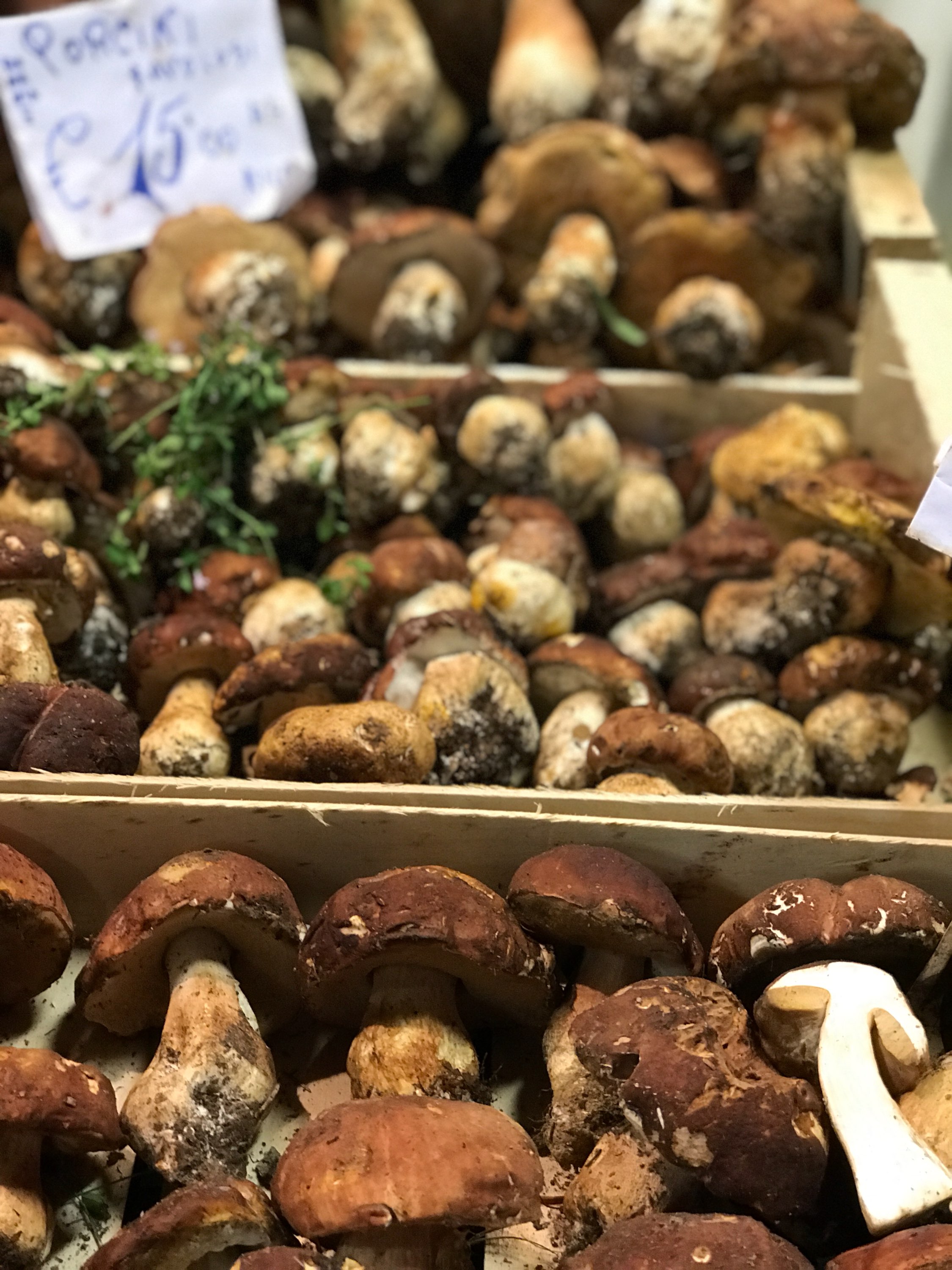 I settle on roasting two beautiful young chickens with Porcini Mushroom Stuffing. Here's the recipe.
ROAST CHICKEN with PORCINI MUSHROOM STUFFING
3 onions
1 - 4 lb. whole chicken (or two small chickens)
Extra virgin olive oil
1 head garlic, cloves peeled and chopped
1 large bag porcini mushrooms, about 6 cups chopped
2 sprigs fresh nepitella, leaves only-chopped
8 sprigs fresh thyme, leaves only-chopped
1 cup dry white wine
Sea salt & cracked black pepper
Paprika
1 tablespoon rosemary, dried
1 lemon
Peel and thinly slice 2 onions. Place onions into the bottom of a roasting pan. Drizzle with olive oil and season with sea salt and cracked black pepper. Place a roasting rack over the onions. Wash and pat dry the chicken. Place onto the roasting rack. Set aside.
Peel and thinly slice the last onion. Saute the onion in olive oil in a large heavy bottomed pot until golden brown, about 20 minutes. Add chopped garlic and sauté for 3 minutes.
To clean the mushrooms, brush with a vegetable brush or use a slightly dampened cloth to remove dirt (do not wash with water or they will get soggy). Trim the ends of the stems, then finely chop tops and stems.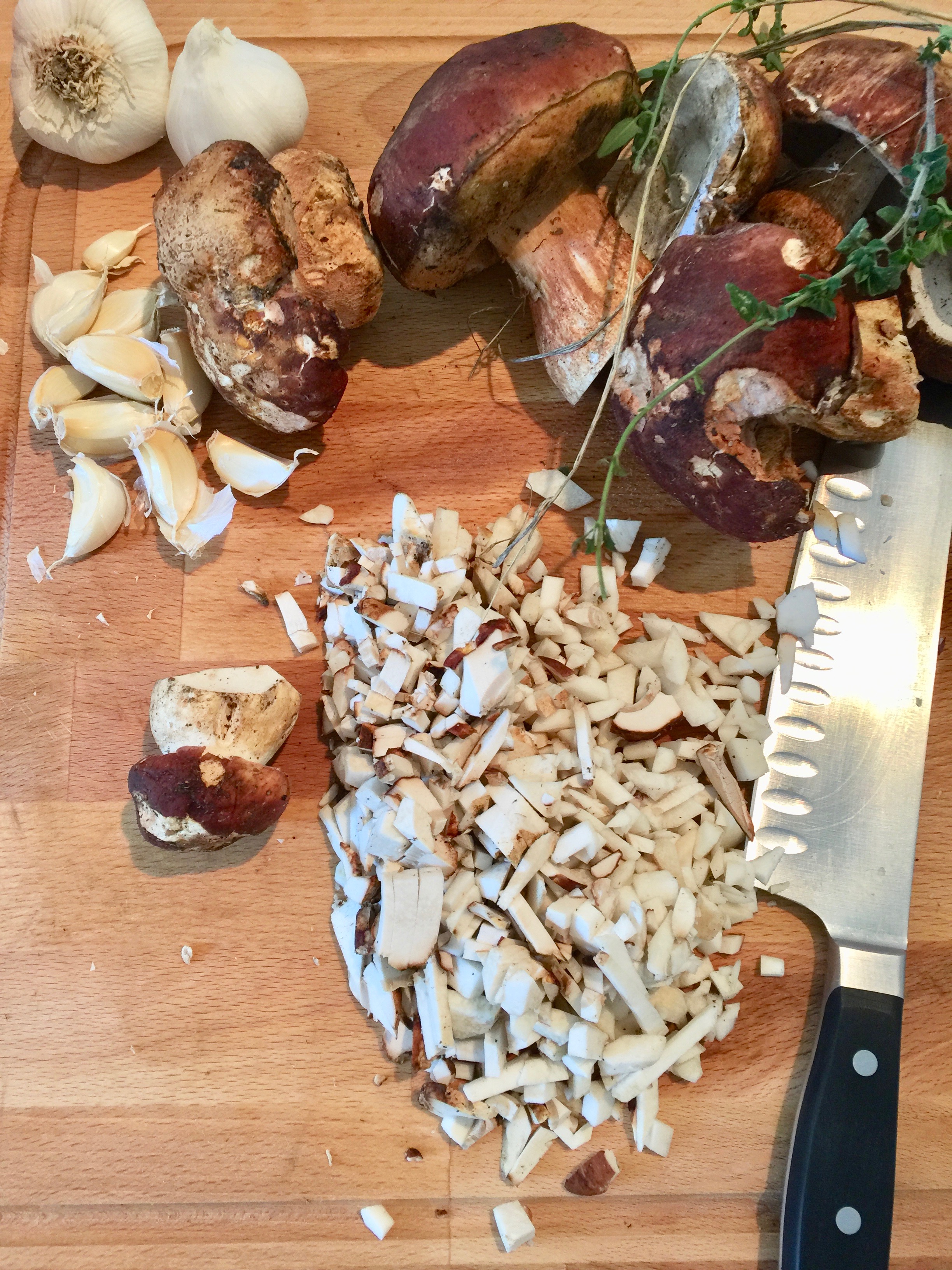 Add mushrooms to the browned onions with a little more oil if necessary. Season with sea salt and black pepper. Sauté until brown and a little crusty, about 15-20 minutes. Add the nepitella and thyme leaves, stirring to combine. Add white wine and stir until the mushrooms absorb the wine, about 10 minutes.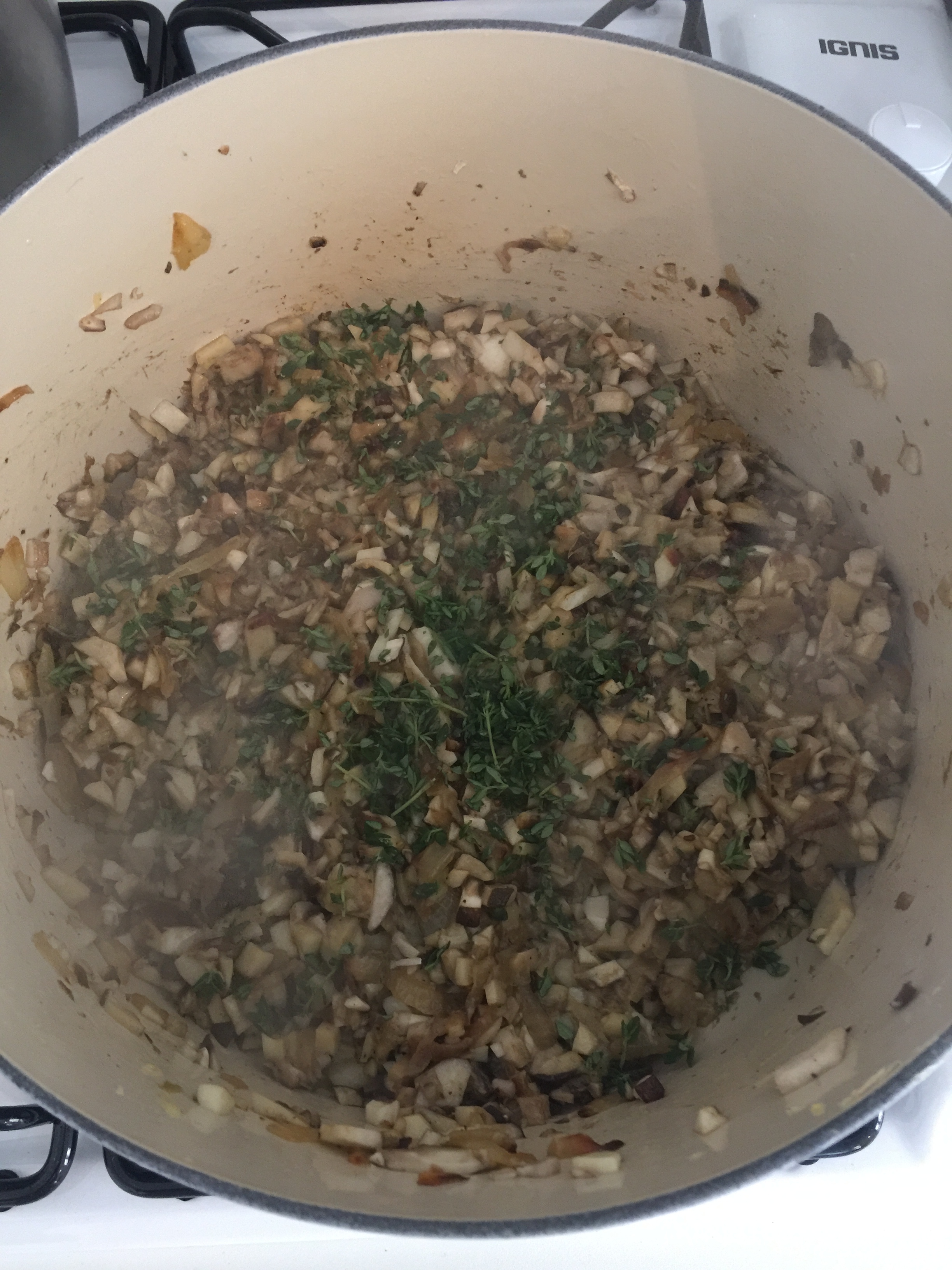 Stuff the cavity of the chicken with the Porcini Mushroom Stuffing. Squeeze a lemon over the chicken. Drizzle chicken liberally with olive oil, then season with sea salt, cracked black pepper, paprika, rosemary and top with thyme leaves.
Place into a 350 degree oven and roast for about 90 minutes or until a meat thermometer inserted into the meaty part of the thigh reaches 165 degrees.
Remove roasting pan from oven. Place chicken onto cutting board and cover with foil to rest for 10 minutes. Using serving spoon, remove the porcini mushroom stuffing and place into serving bowl. Carve chicken by first removing the wings with a small piece of breast meat attached and arrange on platter. Then remove legs with thighs, cutting into separate pieces. Slice breast meat on the diagonal. Place onto the serving platter with the beautifully browned onions in the pan drippings. Serve chicken with browned onions and Porcini Mushroom Stuffing.