This Italian Pepper Beef Stew is slow-cooked for hours with a ton of red wine. We only started seeing this dish at trattorias in the fall and winter, when it gets cold in Florence. It was so hearty and comforting, I told Bruce I had to try and make it. The origins of this dish are as exciting as the taste! In the 15th century when Brunelleschi was building the Duomo on the Santa Maria dei Fiore in Florence, he had a team of tile makers. The guys who baked the tiles in the furnace were called Fornaci and while on the job they would toss some cheap cuts of beef, a handful of peppercorns, garlic and Chianti into a terra cotta pot. They'd let it cook in the corner of the furnace all day. The result? Shredded, delicious beautiful stew that warms your heart!
Modern versions of this recipe often also add tomato sauce to give the stew a little body. Your choice to add it or not. There is also debate about using whole peppercorns or ground pepper. I prefer some of each. The whole peppercorns mellow as they stew – you can eat them after cooking and they are lovely. The ground pepper is actually spicier than the whole ones. Literally takes about 15 minutes to toss the ingredients into an over-proof dutch oven (or terracotta pot if you have one), then let it cook in the oven for 6-8 hours and you are done! (I used a Le Creuset one time, and a heavy All Clad stock pot another time. I prefer the Le Creuset for this, but both work fine and cleaned up easily.) Ask the butcher to give you a few pieces of the bone for additional flavor. This recipe is even better the next night. Great to make ahead and reheat for easy dinners.
PEPOSO
5 lbs. beef stew meat in 2x2" chunks (preferably shin meat)
Shin bone, sliced down the middle into a few pieces (optional, adds great flavor)
8-10 fresh sage leaves
6 bay leaves
1 whole head garlic, top sliced off to expose cloves, outer skin removed
1/8 cup whole black peppercorns
Liberal grindings freshly ground black pepper (about 2 tablespoons)
Sea salt
1-2 cups tomato sauce (optional)
1 large bottle (500mL) Chianti (2 regular size bottles)
DIRECTIONS:
Preheat oven to 325 F (160 C) with rack in lower middle.
Place one layer of beef into the bottom of a Dutch oven. Season with salt, whole peppercorns and ground pepper. Layer with sage and bay leaves. Nestle the head of garlic into the middle. Add one of the beef bones. Layer again with beef, salt, pepper, peppercorns, sage, bay leaves, continuing until all the meat and seasoning is in the pot. Drizzle the tomato sauce across the top. Add the other bones. Add the wine to cover the meat completely. If you don't have enough, you can use a little water.
Place lid onto the pot and place into the oven. Cook at 325 for 6-8 hours.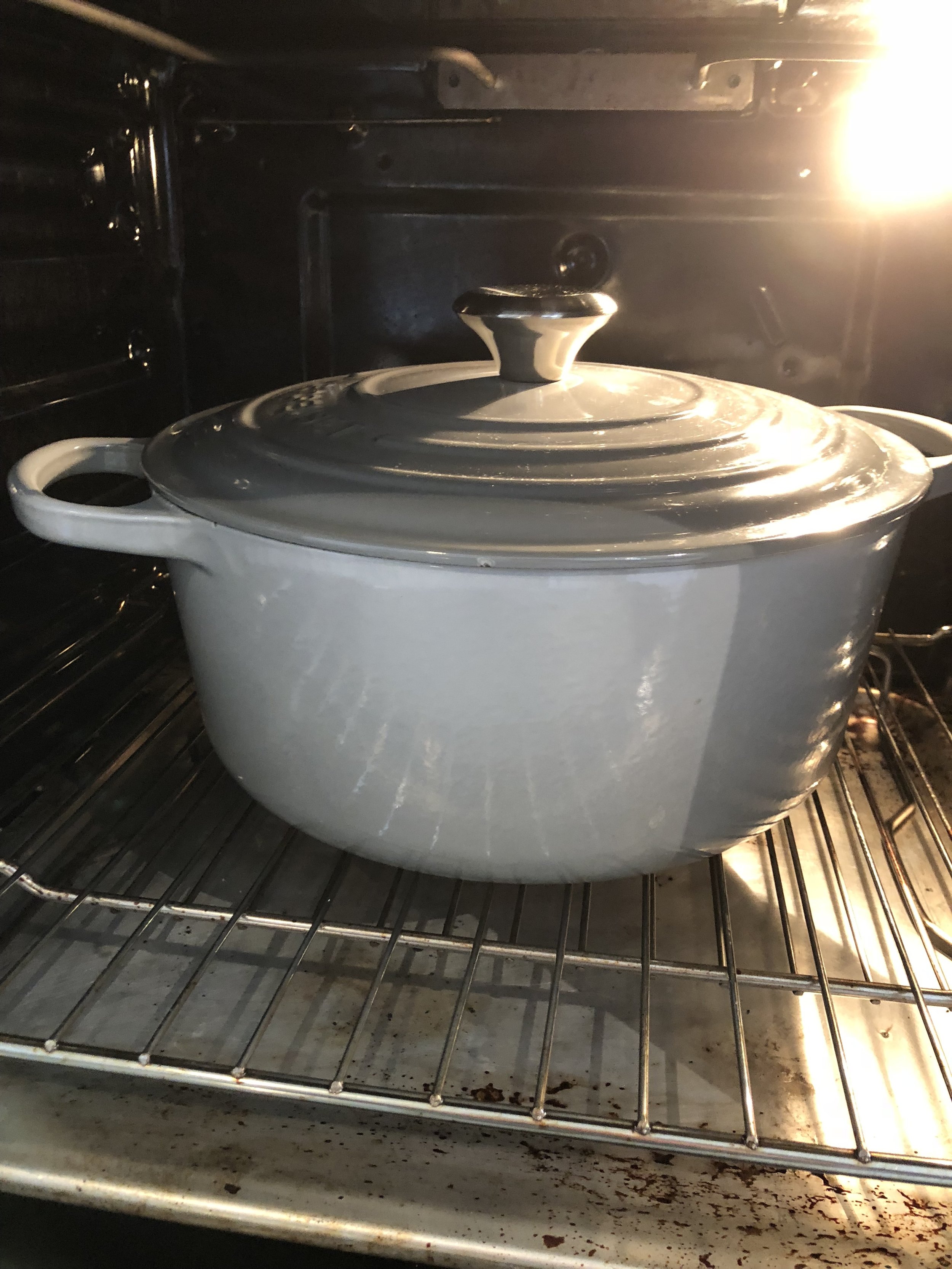 Serve with cannellini beans and sage leaves for a cozy, comforting meal on a cold night. I have to say it was spectacular to eat this simple dish, so rich in history, while looking out our kitchen window at Brunelleschi's two duomos - Santa Maria di Fiore and San Lorenzo. Thank you, Fornaci, for this great invention! You could call their terra cotta creation the world's first slow cooker.