In these warmer California months, the Farmer's Market becomes the best day of the week with a bounty of new ingredients to discover. I've been a little uninspired in the kitchen lately and was hoping for something exciting. I challenged myself to create a brand new recipe based on whatever produce looked amazing. Snap peas were bursting. Yes. Avocados and citrus were popping. Yum. Beautiful flowering herbs – wait is that a variety of tarragon? No, I was corrected, flowering summer savory. That was a yes, too.
The mushroom stand is what made me double take. I saw these beautiful long, thin bright orange mushrooms and inquired. "Those are Cordyceps! Taste one." Even raw, it was mild, with light citrusy and buttery notes. Then she handed me a list of all the incredible medicinal benefits. Anti-inflammatory, helps regulate cholesterol levels, boosts immune system, helps rejuvenate skin and reduce age spots, relief from asthma and chronic bronchitis, helps stave off memory loss. Wow. I bought a dime-bag… well, a bag that had a big 10 on it and there must have been about a cup and a half of mushrooms in there. After a stop at the fresh fish stand for some Chilean Sea Bass my brand new recipe was solidified – at least in my head.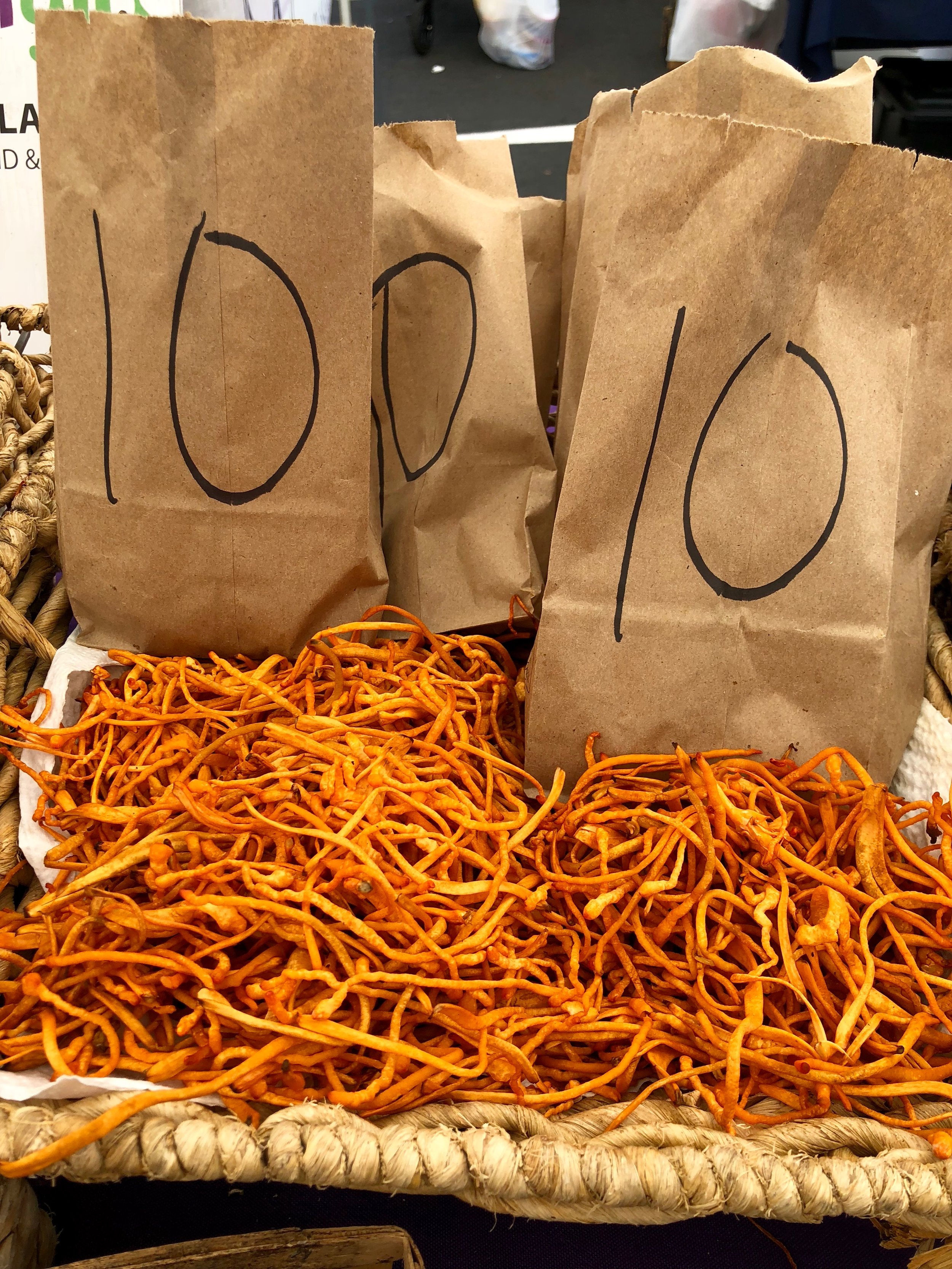 CHILEAN SEABASS with CORDYCEP MUSHROOMS & SUMMER SAVORY
Extra virgin olive oil
2- 5 oz. pieces Chilean seabass
Sea salt & freshly cracked black pepper
1.5 cups cordyceps mushrooms (or chantarelles)
2 tablespoons chopped summer savory (or tarragon)
Preheat oven to 350 degrees.
Season the sea bass on all sides with sea salt and freshly cracked black pepper.
Place a large sauté pan with oven-proof handle on medium high heat. Add 2 tablespoons of olive oil to coat the bottom of the pan. Toss in the cordyceps and season with sea salt and pepper. Saute for about 2 minutes to release the flavor. Add the chopped savory and sauté another 1-2 minutes. Remove the mushrooms from pan and set aside to keep warm. Using the same pan, add a little more olive oil and the sea bass. Sear the fish on all sides for a nice golden-brown crusty edge. Then place the whole sauté pan into the oven for about 3 minutes.
Remove pan from oven, being cautious of the hot handle. Place the sea bass onto serving plates, then top with the cordyceps. Serve with Snap Pea, Avocado & Ruby Red Grapefruit Hot & Cold Salad.
SNAP PEA, AVOCADO & RUBY RED GRAPEFRUIT HOT & COLD SALAD
2 tablespoons extra virgin olive oil
2 cups snap peas, strings removed and chopped into 3 pieces
Sea salt & freshly cracked black pepper
1 avocado, sliced
½ ruby red grapefruit, supremed
Heat a small sauté pan over medium high heat. Add a little olive oil to coat bottom of the pan. Toss in the snap peas and season with salt and pepper. Saute for about 2 minutes until bright green and still a little crunchy.
Remove from heat. Scoop onto the serving plates and top with slices of avocado. Place a few pieces of the grapefruit flesh onto the avocado and spoon a little of the grapefruit juice over the top. Top with a little sea salt and pepper.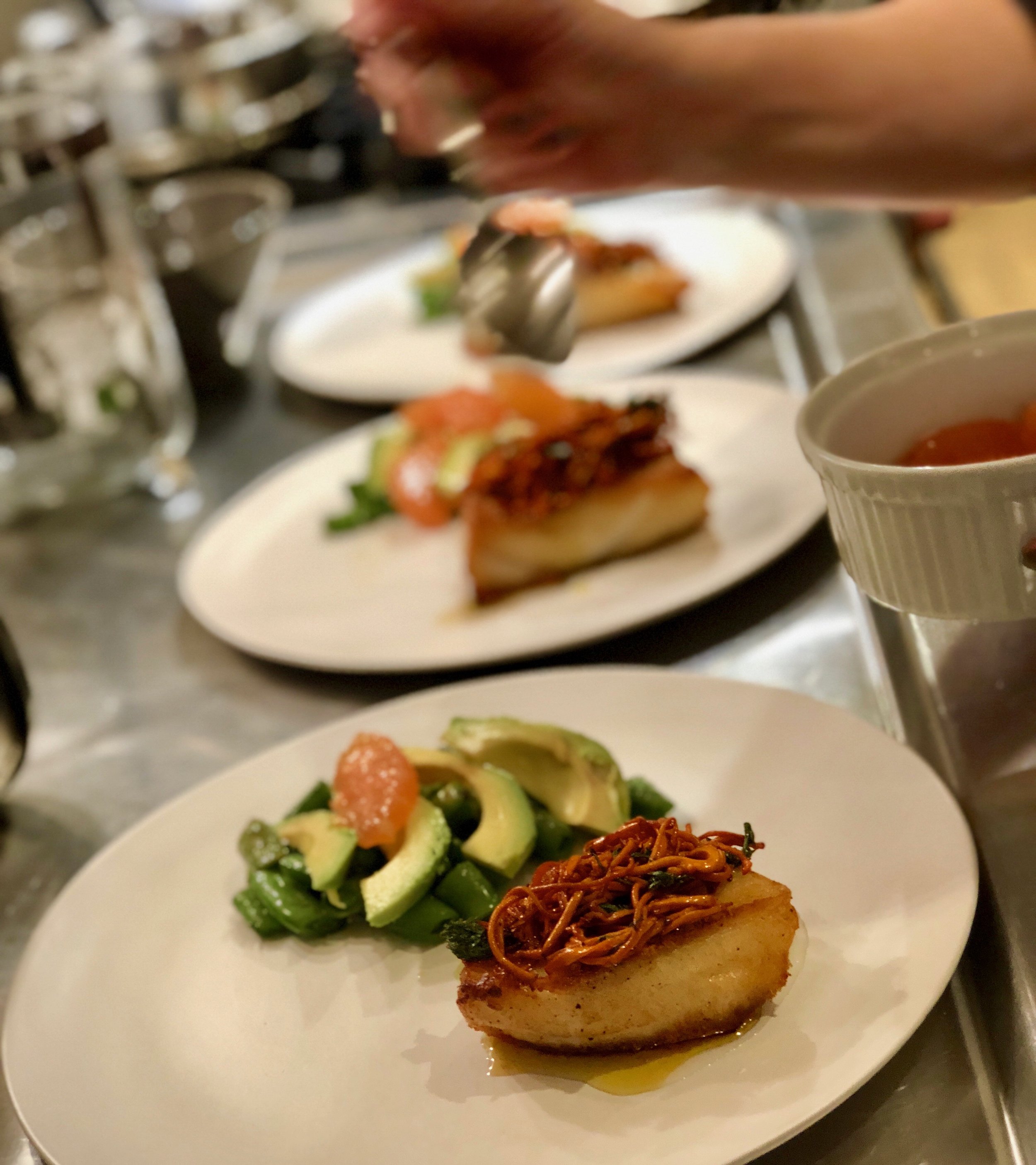 What a taste of Spring!!! The fish was so fresh and buttery with that beautiful seared edge and slightly under in the center. The exotic cordycep mushrooms I will buy and cook again and again just for the subtle citrus flavor, let alone the medicinal benefits. The summer savory gave just the right pop of brightness to round out the dish. The hot snap peas with the cool avocado and juicy grapefruit was crunchy and smooth and tart and just a lovely unexpected combination. Suddenly I felt inspired!
I was so intrigued by these cordyceps I did a little more research and found they come from Bhutan and are considered a magical herbal plant, often called Himalayan Viagra! She didn't mention that at the farmer's market. Wait for it, the ones grown in the mountains of Bhutan, Tibet, and Nepal above 11,000 feet actually sprout out of dead caterpillars! WHAT? They are very expensive ($10K-$50K per kilo) and are used in therapeutic medicinal teas in China. You can read more about them here.
Seeing the difference in appearance from the images of the Bhutan version, I researched until I found images that looked like the ones I bought at the market. The bright orange ones I cooked are cultivated, meaning grown in a lab. There are also many brands of supplements made from these cultivated cordyceps, bottling the benefits for energy, immunity, sexual enhancement, disease prevention and more. In fact, when I looked in my supplement box, I was already taking cordyceps in a product designed to combat adrenal fatigue. No wonder I was drawn to these beautiful new mushrooms, they happen to be just what I need to help strengthen my adrenal system!