My mother-in-law, Suzanne created the basis for this recipe many years ago. Suzanne makes REALLY great soup and this one is no exception. You can find the original recipe in her book, The Sexy Forever Recipe Bible on p. 38. Last week it was raining and I wanted soup for an entrée. I remembered how much I loved this hearty, flavorful soup! I added a few extra vegetables and seasoning. Many of you followed along on my Instagram story and asked for the recipe. Here it is!! I made a killer homemade turkey broth, but you can used boxed chicken broth if you don't have time. Also, it's camellia season - one of my favorite flowers… and daughters!!!
Meatballs
1 ¼ pounds ground turkey
1 teaspoon ground ginger
2 cloves garlic, minced
1 tablespoon tamari (or soy sauce)
1 tablespoon sesame oil
½ teaspoon hot chili oil (optional)
2 tablespoons chopped fresh cilantro leaves
3 green onions, chopped
Sea salt and freshly ground black pepper
Soup
6 cups turkey (or chicken) stock, preferably homemade
6 celery stalks, chopped
6 stalks lemongrass (optional), cut into thirds
6 slices fresh ginger, peeled
3-4 heads baby bok choy, chopped
6 large leaves kale, julienned
2 cups snap peas, thinly sliced
1 tablespoon tamari (or soy sauce)
1 tablespoon sesame oil
Garnish
Sriracha (optional)
1 bunch green onions
1 bunch cilantro, leaves only, chopped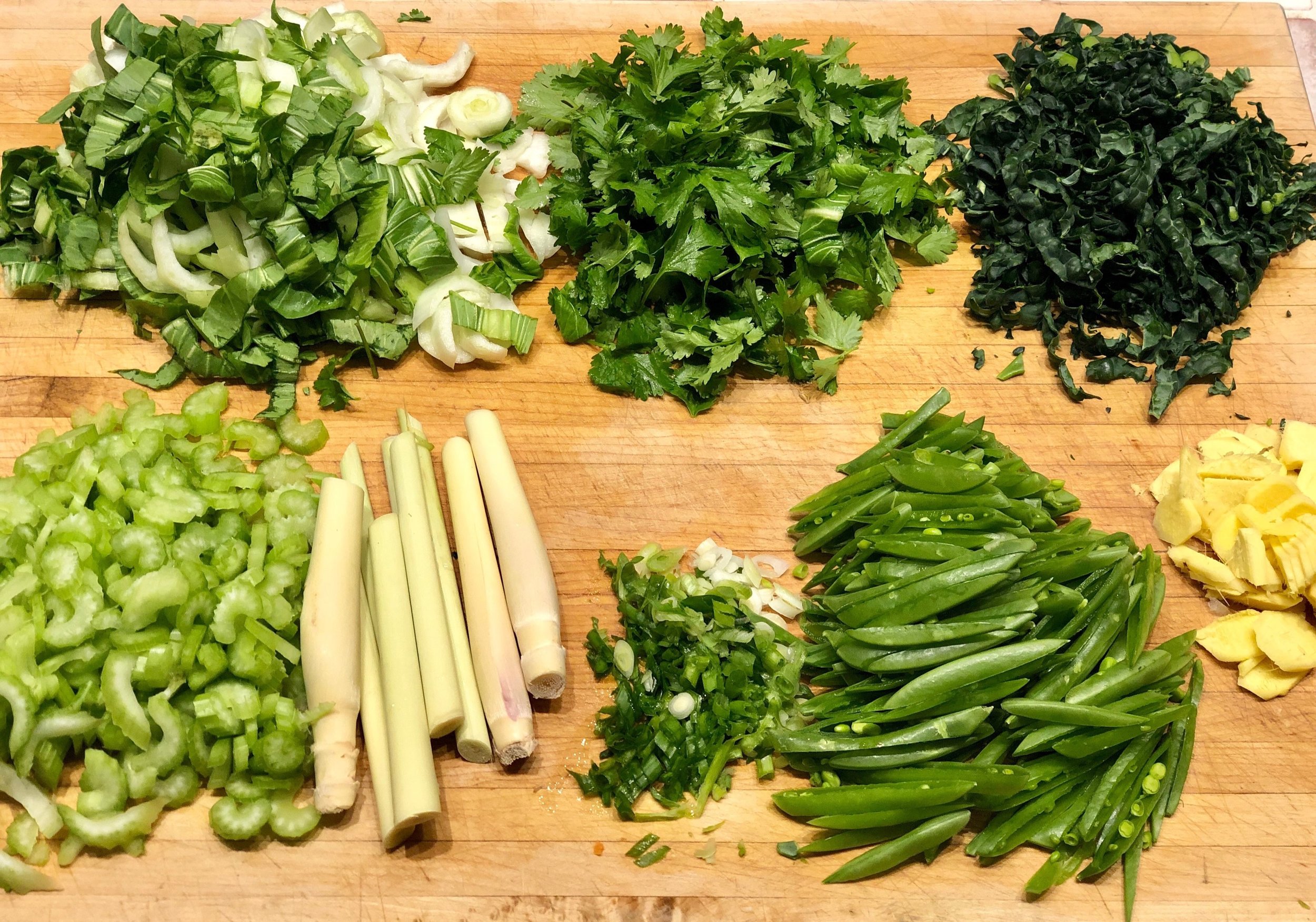 Preheat oven to 350 degrees.
Meatballs:
Place ground turkey into a mixing bowl with ground ginger, garlic, tamari, sesame oil, chili oil, cilantro, green onions, a little bit of salt (the tamari is salty) and pepper. Using your hands, mix until well combined. Grease a baking sheet with a little sesame oil. Roll turkey into small bite-sized meatballs and place onto the baking sheet. Bake in 350 degree oven for about 10 minutes. Remove from heat and set aside.
Soup:
Bring stock to a boil in a large stock pot. When boiling, add the cooked meatballs, scraping all the bits of the bottom of the pan. (You can even add some stock to the pan to get all the bits off the bottom of the pan to add to the soup pot.) Add celery, lemon grass, ginger slices, bok choy, kale, and snap peas. Cook for just a few minutes so vegetables stay bright green and are still a little crisp. Add a little tamari and sesame oil.
Ladle into bowls and garnish with cilantro leaves, green onions and a little sriracha if you like it a little spicy!
(NOTE: Avoid chewing on the ginger and lemongrass - they are to flavor the broth only.)
Serves 6